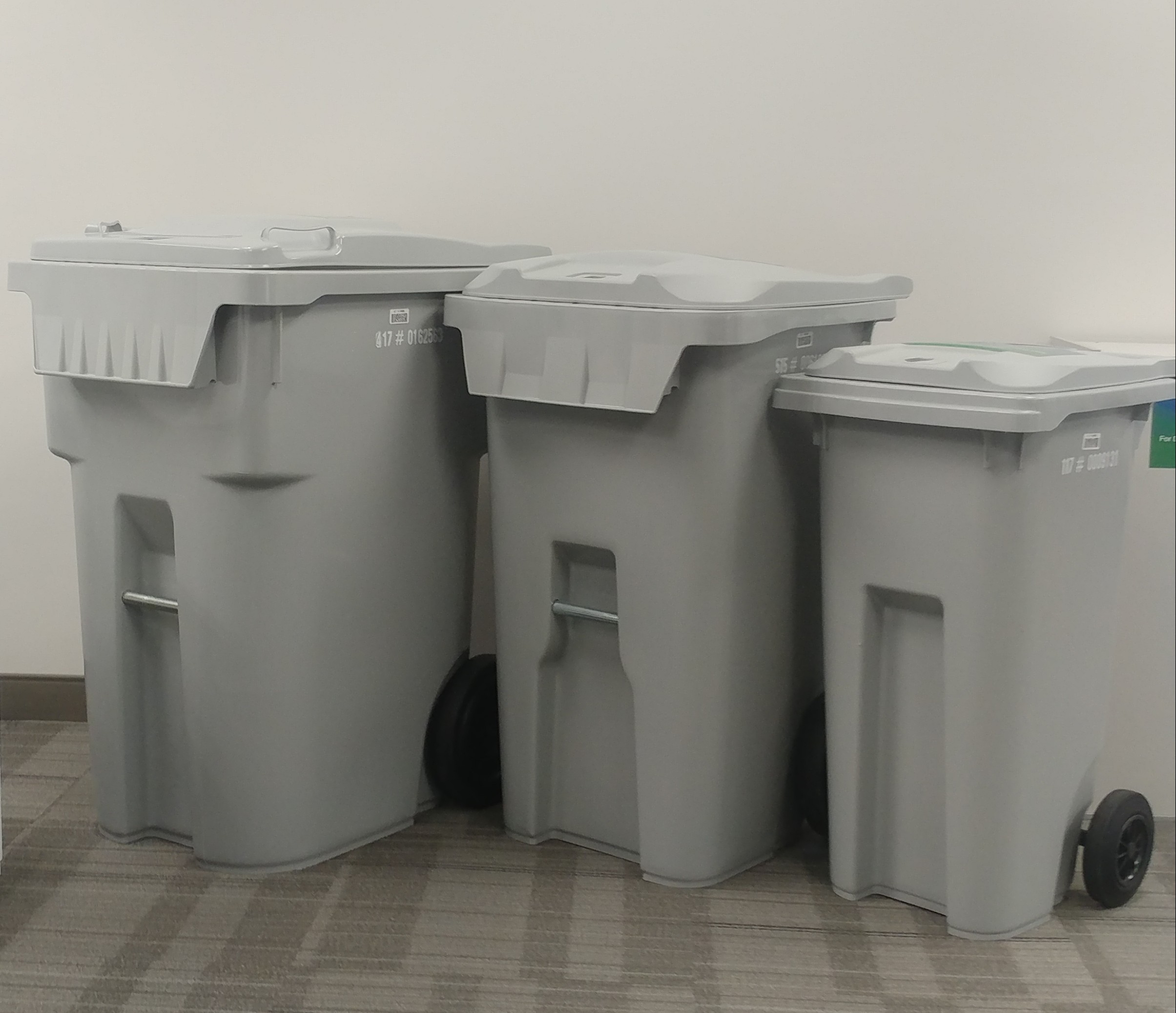 Our Secure Shred Bins are designed to ensure your confidential documents are contained on-site, and easily transported for destruction. The lid is firmly locked to the base, allowing you to contain your sensitive documents until their scheduled pick up. Bins are easy to tilt and roll to move.
Standard neutral grey color.
65 Gallons | Holds up to 200 lbs.
42.5″ H x 24.5″ W x 27.5″ D
96 Gallons | Holds up to 300 lbs.
45″ H x 26″ W x 34″ D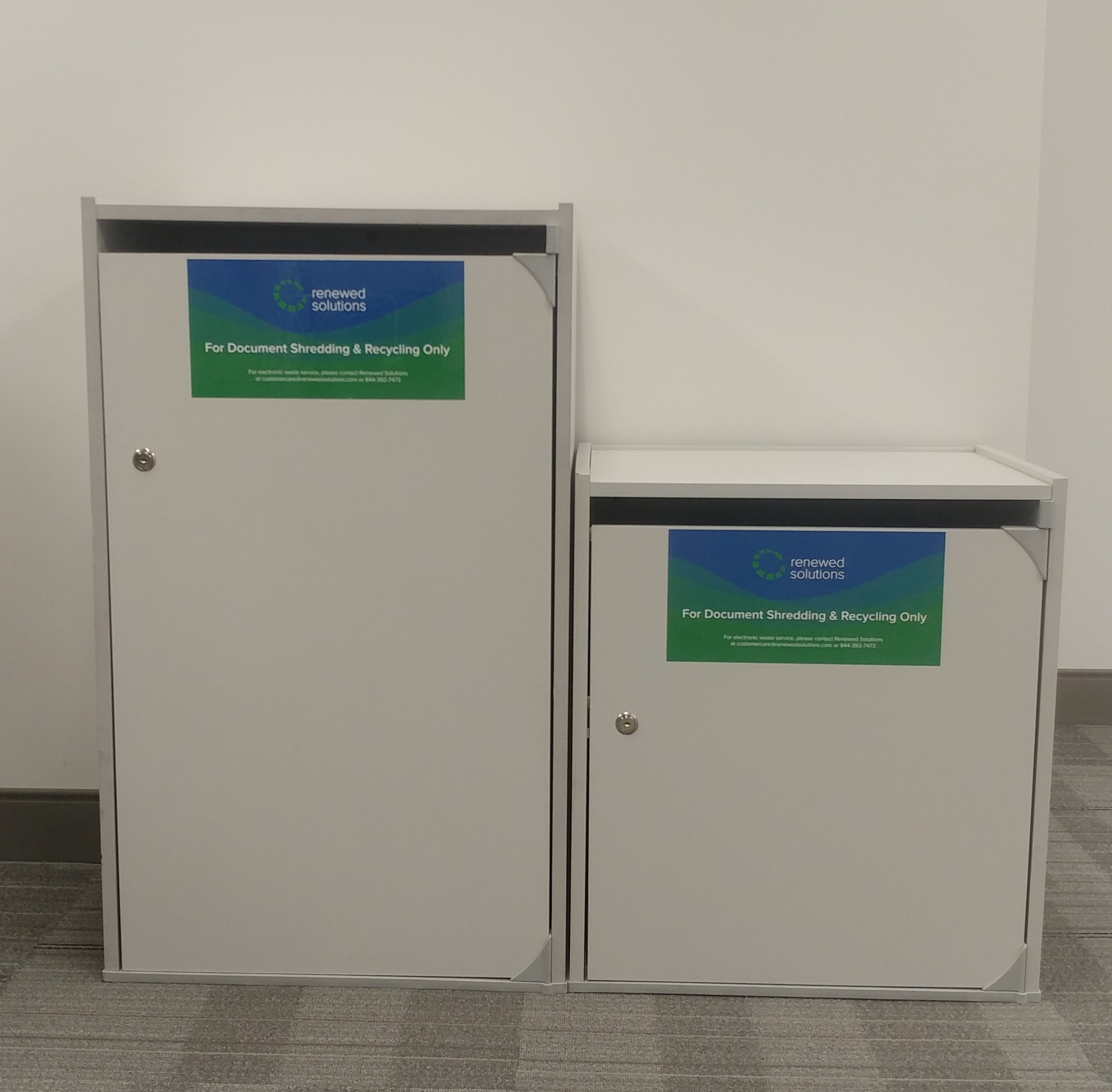 Our attractive Secure Consoles hold up to 80 lbs. of sensitive documents and come in a variety of finishes to match the aesthetic of your office space.
Holds up to 60 lbs.
24″ H x 21″ W x 16″ D
Holds up to 80 lbs.
36″ H x 21.5″ W x 16″ D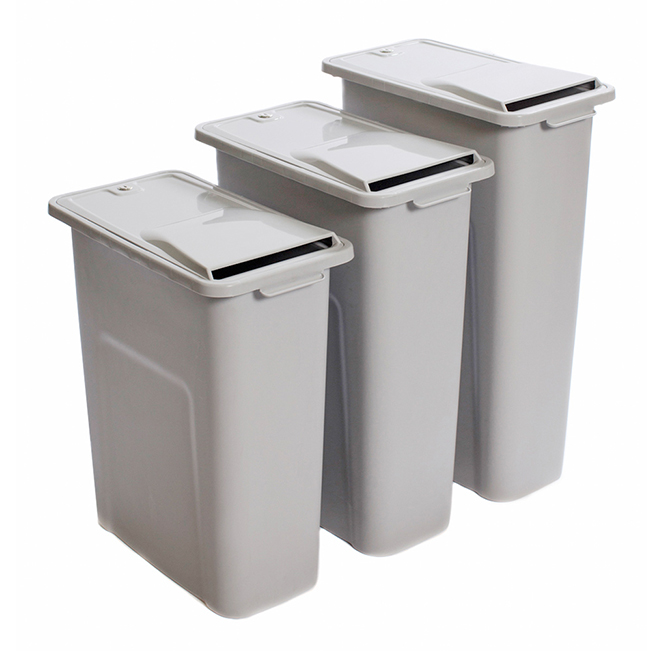 Secure Shredding at your deskside! This makes our slim series the number one choice for all "C" suite offices. The perfect office solution for keeping your confidential documents private. Financial institutions, retail locations, medical facilities & hospitality all need secure storage for their documents containing PHI & other confidential information. Our Slim Series is offered in 3 different heights and fits nicely in your management offices or under desks. Security and compliance conveniently located at your desk.
24" Slim Series
Dimensions HxWxD:24"x11"x20"
Capacity:16 US Dry Gallon
Empty Weight:7 lbs
27" Slim Series
Dimensions HxWxD:27"x11"x20"
Capacity:20 US Dry Gallon
Empty Weight:8 lbs
30" Slim Series
Dimensions HxWxD:30"x11"x20"
Capacity:23 US Dry Gallon
Empty Weight:9 lbs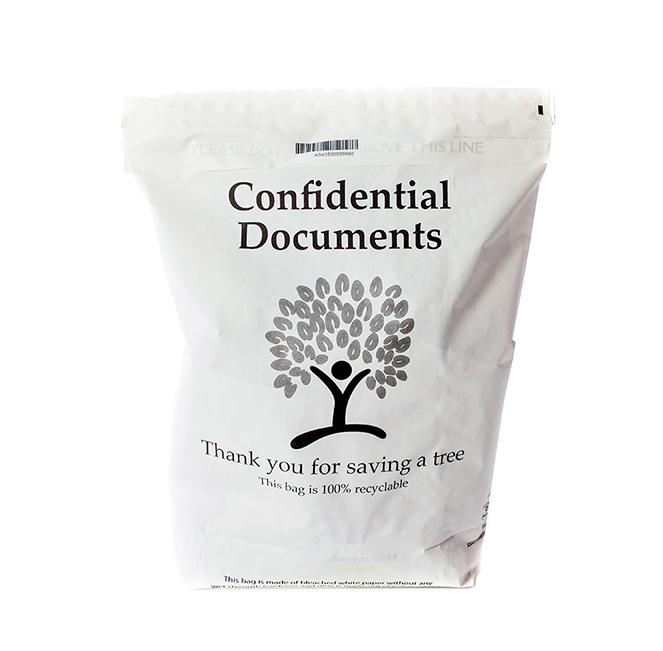 Your business needs a work-from-home shredding solution and our Seal & Shred Bag is the perfect answer. Protect your company and confidential documents while your team "works from home" – simply provide your employees a Seal & Shred Bag to collect all their documents and have them drop the bags at the office when they are full. This is the no hassle way to ensure your teams are protecting confidential information and remaining compliant while working from home. Available in a 6-gallon size, the Seal & Shred Bag can be easily filled, sealed, and shredded with no equipment required. Each bag is equipped with a unique barcode for tracking and compliance as well.
Seal & Shred Bag Details
Dimensions HxWxD:21" x 13.5" x 5.5"
Capacity:6 US Dry Gallon
Weight Capacity:Approx. 1 Banker Box (15Lbs)
Make Sure You're Compliant!
Outsourcing Your Shredding Is More Secure And Less Expensive Than Shredding It Yourself.
Testimonials
What they're saying
"We were thrilled with the service, ease and of course the pricing. We look forward to using your company for our next shredding job. Thank you for making this a painless process, before the competitors even responded to my request for a quote! :)"

AMY

First Texas Homes
"I could not have asked for better service or a better shredding experience at a better price. Smarter Shredding will definitely be my first choice in the future when I require another purge shredding."

Jordan

Shippers Express
"I could not have asked for better service or a better shredding experience at a better price. Smarter Shredding will definitely be my first choice in the future when I require another purge shredding."

Jordan

Shippers Express
"From the time they entered our office on the 10th floor until they took the last of the shredding down to the truck was less than 2 hours and we had 104 boxes of documents!"

Bea

Hamilton & Squibb
"Science is fun. Science is curiosity. We all have natural curiosity. Science is a process of investigating. It's posing questions and coming up with a method. It's delving in."

Sam Murray

Lead Architect