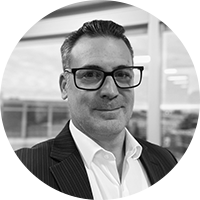 Stephan Bennet
President, Co-Founder
Stephan Bennett is the President & Co-Founder of Renewed Solutions, LLC.
Renewed Solutions provides compliant, secure, and sustainable destruction and recycling services to the small to medium size business market.
Prior to making an asset purchase of Renewed Solutions in August 2021, Stephan was the Vice President of Sales at Renewed Solutions. He was responsible for all the company's sales and operations. Between 2017 & 2020 Stephan expanded the company's residual service offerings, market coverage, developed key channel partners, and increased sales revenue from $500k to $1.65 million annually.
From 2002 through 2017, Stephan developed and managed sales & management teams for Worldwide Express. Working closely with franchise owners in Minneapolis, Madison, Milwaukee, and Dallas, he was responsible for all sales and customer support teams. Stephan had the unique position to learn through mentors, partnerships, and franchise ownership groups in a booming supply chain management industry. Stephan's was one of the few management leaders who relocated family to further his career and management opportunities. Starting, developing, and selling 4 different franchise markets over a 15-year run.
With 20 years of experience in creating and executing best in class professional services; Stephan's knowledge, skill sets, resources, and networks create the perfect opportunity to scale his business quickly and profitably.
Testimonials
What they're saying
"We were thrilled with the service, ease and of course the pricing. We look forward to using your company for our next shredding job. Thank you for making this a painless process, before the competitors even responded to my request for a quote! :)"

AMY

First Texas Homes
"I could not have asked for better service or a better shredding experience at a better price. Smarter Shredding will definitely be my first choice in the future when I require another purge shredding."

Jordan

Shippers Express
"I could not have asked for better service or a better shredding experience at a better price. Smarter Shredding will definitely be my first choice in the future when I require another purge shredding."

Jordan

Shippers Express
"From the time they entered our office on the 10th floor until they took the last of the shredding down to the truck was less than 2 hours and we had 104 boxes of documents!"

Bea

Hamilton & Squibb
"Science is fun. Science is curiosity. We all have natural curiosity. Science is a process of investigating. It's posing questions and coming up with a method. It's delving in."

Sam Murray

Lead Architect